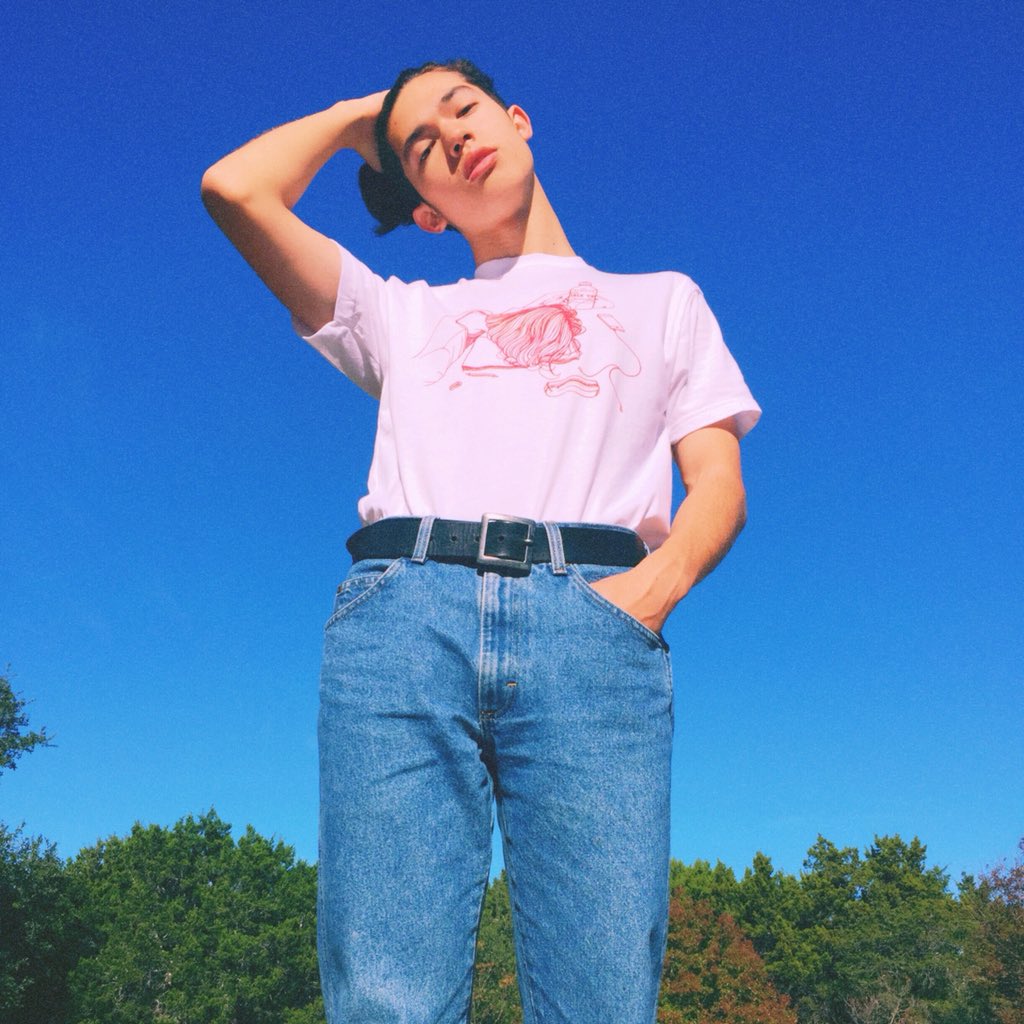 this picture is taken from conans twitter, he is wearing a shirt with his own artwork on it (pretty, isn't he? yeah, the art as well)
---
19, that is how old conan is.
but even by this young age he has already build a huge fanbase, that does not just love him for his video content, but also adores his visual art, music and general personality. he is, as most teenagers are these days, very active on social media and has a big following on instagram (240 thousand), twitter (85,5 thousand) and tumblr (you can't see the follower count on there, but probably loads, cause tumblr eats up boys like him).
most of his videos are filmed at his family house in texas, but recently he moved to LA, where he now is an art student at the University of California, Los Angeles (UCLA). he is still making regular videos, but has also been putting out more music.
4 years ago, he started uploading videos onto the website youtube, now he has over 540 thousand subscribers and more than 31 million views on his over 220 videos. it has been a journey, as he started out with more comedic sketches, now he does a lot of vlogs, music stuff and chatty videos. common topics in those are art, clothes and style ( a lot of thrifting), school and uni, his personal life and his friends (that are featured or mentioned in most of his videos).
his general aesthetic, a thing he is very known and loved for, has evolved quite a bit over the years. conan himself said in past videos, that he has grown more confident in his personal style, which has affected his way of making videos. his room is full of old knick knacks, pictures, thrifted retro items and fairy lights. for somebody, that doesn't just want great content, but also something nice to look at, conans videos and also just he in general, provide that just fine.
but what has really gained him a lot of popularity these past months, is his music. because conan is not just a great filmmaker and painter with a good look for aesthetics and  a great personality, he is also a musician. (hence the whole multitalent thing) he has uploaded little originals and covers on his youtube channel, but when he put his song idle town on spotify and apple music, it blew up. as of now, it has 3 million listens on spotify and a 5/5 rating on iTunes.
whether he is going to pursue a career in music art or filmmaking, i am sure he will be a great success.
you will probably like him if you are into youtubers and musicians like:
catcreature
connor franta
dodie clark
cavetown
rusty clanton
lorde
lana del ray
bertie gilbert
and generally cute indie boys with soft voices.
if you are now curious, here are all his links, i recommend it immensely.
youtube account: https://www.youtube.com/user/ConanXCanon/videos
tumblr: http://conangray.tumblr.com/
instagram: https://www.instagram.com/conangray/?hl=de